START BUILDING YOUR BLISS SUBSCRITION
Build Your Home Subscription
---
Every BLISS designer creation is always unique using your selected reference style as inspiration. Our team will capture the feel and composition of your chosen reference using the available freshest seasonal florals, with the signature BLISS touch.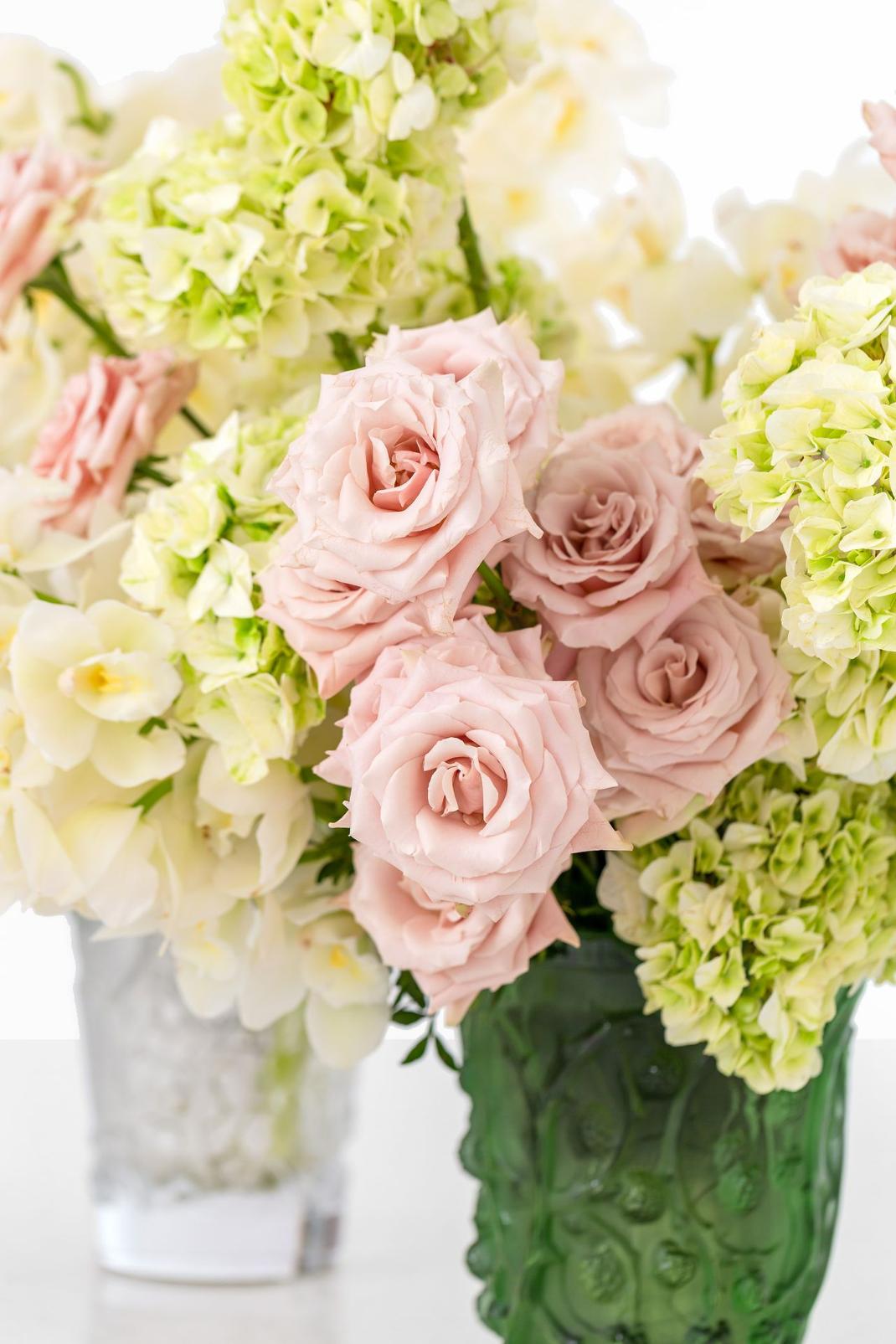 Do I set the frequency of bouquet delivery?
With our flower subscription, you can pick a flower delivery weekly, biweekly, or once a month. Our subscription is available for
delivery Monday to Sunday. Subscription will renew automatically so you'll continue receiving curated bouquets without the
hassle of purchasing again.
Do I receive my subscription flowers in the same showcased vases?
No, the initial subscription includes BLISS signature vases specifically curated to match our bouquet collection. The showcased
Tanagra vases are used for display purposes to enhance the visual presentation of our floral arrangements. If you wish to switch
to Tanagra vases in the future, please contact our customer support team for assistance in making the change.
Can I choose a bouquet size for a flower subscription?
There are 2 locations for your arrangements to select: Coffee table and Dining Table. And you may choose the size for selected
type of arrangement accordingly: Premier, Grand, Luxury, Magnificent. Please tap here to review actual size look.
How should I take care of my flowers?
Every bouquet comes with care instruction card, where you may find tutorial to keep your flowers last longer. Here are key
suggestions:
-Unpack flowers as soon as possible
-Remove tie placed on flowers
-Recut flower stem 1⁄2 to 3⁄4 inches and place in lukewarm water -Remove any foliage that will be under water
-Don't overload the flowers in container
-Check the water level in the vase and replenish it frequently -Flowers that go limp are not drinking well and need to be recut
-Always discard wilted blooms
What benefits will I have with Bespoke PLUS subscription?
As a Bespoke+ subscriber, you will have the exclusive service arranging every new replenishment with our best floral designer. You
can specify your preferred flower types, colors, styles, location for arrangement. Our designers will craft exquisite arrangements
that reflect your individual taste and preferences.
Can I send subscription as a gift?
Absolutely! Bespoke+ Plan Subscriptions is an especially popular gift for the holidays, but you can customize your subscription gift
by frequency and duration to choose a subscription best suited to your recipient! Surprise a loved one this holiday season with a
flower subscription.
Can I pick which bouquet I receive?
While the Simple Plan may not offer the same level of bouquet customization as the Bespoke+ subscription, we still provide options
for you to choose from. Here's how the bouquet selection process works for the Simple Plan: Bliss Signature, Seasonal, Designer's
choice.
Can I choose specific flowers not to be included in my subscription?
Certainly. If you have any special preferences or allergies, please mention them at "Leave a special note" section. 
Can I skip/pause my flower subscription?
Yes, you can skip a shipment or pause your subscription anytime. You will not be charged for skipped months. Contact us at
https://info@blissuae.com/ or WhatsApp and we will be happy to assist you.
Can I change my delivery address?
To update your delivery address, log into your Bliss Account account and enter your new address under the account
management dashboard.
How will I be billed?
Bliss offer Ongoing payment plan. you will be billed according to the delivery schedule you select (either weekly, bi-weekly, or
monthly). 
Do I have free shipping on subscription orders?
Shipping is always free on your subscription order.
Can I set the date and time my flower subscription be delivered in?
Depending on the day you first choose for your flower delivery and cadence, we'll deliver on that day for all future deliveries.
So, if you get your flowers delivered on Thursday bi-weekly, you'll get another flower delivery two weeks later on a Thursday.
Can I do cancelation of my subscription?
If you would like to cancel your membership, you have to do so at your personal cabinet. We would love your experience with us
is always blissful! If you're canceling due to an unsatisfactory experience, please contact us by email at https://info@blissuae.com/ or
Whatsapp. To cancel your subscription, log into your account. Click on the Subscriptions tab. Scroll down to the bottom of the
page and Select "cancel subscription". After this, your subscription will not continue renewing. Please note: An email will be sent to
verify you have canceled your subscription and if you do not receive an email, you did not cancel